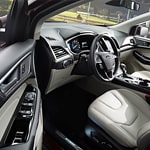 Metro Ford Sales Inc. knows that some drivers want to buy a vehicle that reflects their own personality. The popular Ford Edge midsize SUV is a good fit for those who have an active lifestyle. The design of this SUV is athletic and bold.
Do you need hauling power? In the Ford Edge, you will get 335 horsepower with 380 lb. per foot of torque. That will let you haul your favorite toys to that next outing. The Edge was also designed with a Ford Performance suspension, and it has paddle shifters that were modeled after racing parts. The Ford Edge is more than just a family car. It's a companion for free spirits.
You should call or visit us today in Schenectady, NY to schedule your test drive of the Ford Edge. The best way to experience the Ford Edge design is to see it in person. We'll also be happy to talk about financing when you visit.