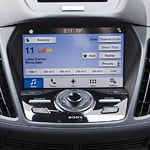 Known for being a popular crossover on the roads, the Ford Escape excites drivers and passengers all over the roadways. We at Metro Ford Sales Inc. are here to help you maximize the potential within your vehicle needs. Technology is one of those things that plays a vital role in how your vehicle operates.
Safety is always the priority on the streets, highways and parking lots. The Escape uses technology to assist you with driving. The Cross-Traffic Alert system will notify you when traffic or other objects are in the rear of your vehicle. Things can happen fast. Allow the sensors to warn you of objects when you are backing out.
SYNC 3 from Ford is available in the Escape. It comes with plenty of cool technology features, including a Wi-Fi hotspot. Your passengers will always feel connected with the feature. Come by our showroom in Schenectady, NY to test drive this popular crossover from Ford.